Opioid Toolkit
Ohio Chamber of Commerce
Ohio's employers are asking what they should do about the opioid problem in their own workplaces. The Ohio Chamber of Commerce convened a task force to explore the options. One recommendation coming out of the task force was for employers to be armed with a toolkit of resources to be better prepared to prevent and respond to the problem. With the help and expertise of a member company, Working Partners®, and financial support from member company, Anthem, we have developed the Opioid Toolkit containing several resources free of charge to any company that is doing business in Ohio.
4-Minute video about the opioid problem
---
For Employers:

ONLINE COURSE: A Dose of Reality for Employers - A toolkit to help mitigate the risks associated with Ohio's Opioid crisis.
This 5-module course (13-16 min. per module) gives an overview of the legal and operational issues an employee must consider in dealing with an employee's use of opioids and other substances. The modules include best practices around how, when and why to drug test; how to handle a situation if the employee confesses or is discovered to be using harmful substances; and much more. Although each module contains valuable information, it is not necessary that they be watched in order or in their entirety.
The Impact of Opioids in the Workplace: It's NOT business as usual
(approx. 16 minutes)
Read More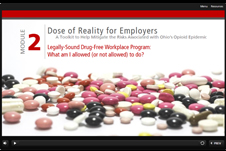 Legally-Sound Drug-Free Workplace Program: What am I allowed (or not allowed) to do? (approx. 16 minutes)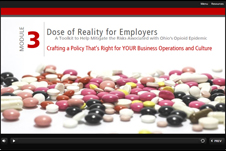 Read More
Crafting a Policy That's Right for YOUR Business Operation and Culture (approx. 15 minutes)
The Why, When & How of Workplace Drug Testing (approx. 13 minutes)
Responding to an Employee's Harmful Use of Drugs (approx. 13 minutes)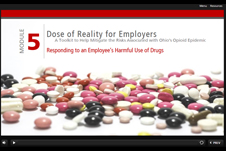 Read More
---
For Employees:

ONLINE COURSE: A Dose of Reality for Employees - Being a Safe and Critical Consumer of Prescription (RX) Drugs. This course is funded by the Cardinal Health Foundation.

This hour-long employee education course teaches the employee a five point strategy and provides downloadable tools to enable the employee to understand the dangers of misusing prescription drugs and how to be a safe and responsible consumer of drugs.
---
ADDITIONAL RESOURCES:

4-Minute video about the opioid problem
Awareness campaign materials for employer distribution