Meet the 2022 Community Salute Award Winners
Betty Smith was recognized with the highest honor, the Award of Merit, at the Canton Regional Chamber of Commerce's Community Salute Awards on Wednesday, Oct. 26, 2022. Smith is the co-founder and executive director at EN-RICH-MENT.
The Award of Merit was presented along with seven Awards of Appreciation during a dinner program at the Kent State University at Stark Conference Center (6000 Frank Road, North Canton, OH 44720).
Award of Appreciation winners include:
Akron-Canton Regional Foodbank
Aultman's Timken Family Cancer Center
Canton City Health Department
Joanne Murray
Stark County Diaper Bank
Stark County Health Department
The Golden Key Center for Exceptional Children
---
About Betty Smith: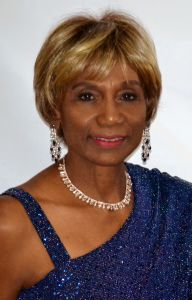 Betty Smith was employed by Catholic Charities of the Archdiocese of Chicago for 28 years where she created programs for youth and families. Smith founded Forever Free, a recovery home for women and women with children recovering from drugs and alcohol, Joyful Noise Christian Entertainment Center and Stretchnastics Aerobic exercise studio, Multi-Development Services of Stark County, Canton Idol, Gospel Joins Symphony, and more.
In 2012, Betty Co-Founded and became the Executive Director of EN-RICH-MENT. Her awards include: 2013, inducted into the Senior Olympics Hall of Fame; 2016, Women's Legacy Award for Education; Community Salutes Award of Appreciation from the Stark County Regional Chamber of Commerce and a Woman of the Month Award for the Arts from the Lenzy Institute; 2018 on behalf EN-RICH-MENT, the Judith Lancaster Community Award under ABCD, Inc., the Robert and Patricia Horowitz award, and was one of two recipients to receive the Peoples Champion award from the Repository's Inaugural Awards Gala; 2019, a Special Spotlight Award from Coming Together Stark County, Community leadership award from Omega Psi Phi Fraternity, and Indiana University Black Women's Philanthropy Institute Award and United Way Gold Key Award and in 2022 Champion Award from the Bluecoats.. Smith is the author of "Unexpected Blessings in the Midst of my Pain", and "Bishop Arthur M Brazier, Man with a Vision."