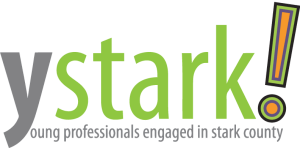 Young Professionals Engaged in Stark County
Our dynamic ystark! initiative is committed to propelling young professionals (YPs) towards success while creating positive ripples throughout our region and growing a network of YPs who choose to WORK, PLAY & STAY in Stark.
Dedicated to the modern movers and shakers, ystark! is your gateway to a world of knowledge, leadership, and meaningful engagement. We recognize that being a young professional isn't just about the job you have – it's about the career and life you're building.
ELEVATE
Whether you're already excelling in your current role, actively seeking your next big opportunity or just stepping onto the professional scene, ystark! is your partner in progression. Our extensive network, carefully cultivated connections and tailor-made professional development avenues form the bedrock of a career-building journey like no other.
CONNECT
Beyond business cards and LinkedIn connections, ystark! facilitates genuine relationships that withstand the test of time. Connect with like-minded peers, mentors who've walked the path before and industry influencers who will expand your horizons. These connections aren't just for now – they're for a lifetime of growth.
IGNITE
As a ystark! member, you're not just building a career – you're shaping the future of our community. Our commitment to community engagement is as strong as our focus on professional development. With ystark!, you have the platform to initiate change, drive progress, and make your mark where it matters most.
ystark! is an initiative of the Canton Regional Chamber of Commerce focused on attracting, retaining and engaging young professionals in Stark County. We welcome all YPs from throughout the region to get involved in the movement. Join today!