Beese Fulmer Business Scholarship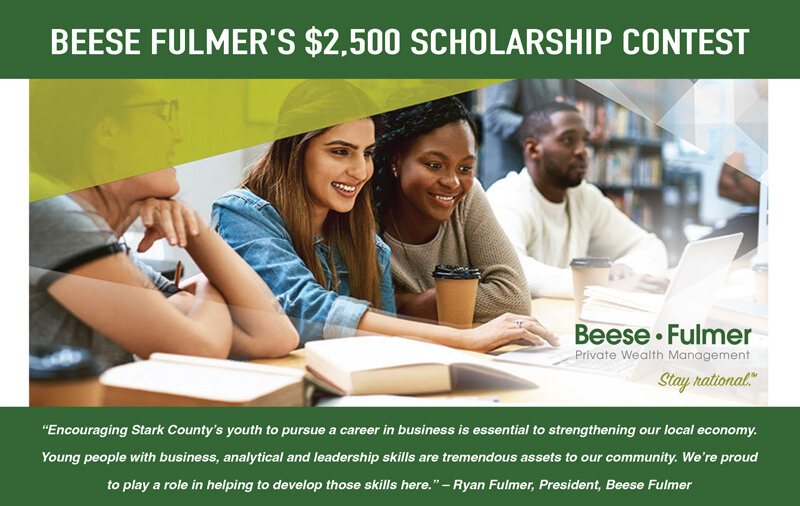 About the Scholarship
Beese Fulmer Private Wealth Management, a leading investment firm known for its rational approach to wealth preservation and growth, announced that Stark County high school seniors and college freshmen interested in pursuing a career in business are eligible to apply for its $2,500 "Stay Rational" Business Scholarship. The scholarship contest is offered in conjunction with the Canton Regional Chamber of Commerce's annual Business Excellence Awards.
How to Enter
To enter, students must compose a 500 to 1,000-word essay on the following topic: 
"Up and coming generations influence the success of brands and technology. What brand or technology is in its infancy but could become a major household name, for example, the next Apple or Lululemon? Why will it be successful?"

Contest Awards
One student will win a $2,500 scholarship. Two runners up will also be chosen.
The scholarship winner and runners up will be announced and introduced May 11 during the Business Excellence Awards dinner at the DoubleTree in Downtown Canton.
Official Beese Fulmer "Stay Rational" Business Scholarship contest criteria follow:
The essay will demonstrate strength in research and analysis, clear and persuasive communications and the ability to summarize business recommendations to accomplished executives.
Contest is open to students currently enrolled as a Stark County high school senior or college freshman; submissions must include student's school.
500- to 1,000-word original essay
Candidate must be a Stark County resident; submissions must include student's address, email and phone.
Candidate who wins the $2,500 scholarship award must be available to attend the Canton Regional Chamber of Commerce's Business Excellent Awards on Thursday, May 11, 2023.
How to Submit
Students may submit their essays online.
Deadline
Essays must be received by April 14, 2023 to be eligible for the scholarship contest.
Questions?
Contact Megan Stangelo (330) 458-2053.