Canton Regional Chamber of Commerce President & CEO Denny Saunier to Retire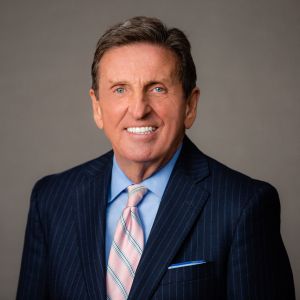 The Canton Regional Chamber of Commerce today announced that President & CEO Denny Saunier has informed the board that he plans to retire no later than the end of 2023, after a remarkable 42-year career with the Chamber. Saunier has held the position of president & CEO since January 2001.
"Denny's leadership, advocacy and tireless commitment to serving our community and businesses will truly be missed," Canton Regional Chamber Board Chair Ralph Lee said. "He has guided our Chamber to solid organizational and financial footing, with an exceptionally strong staff and membership base. His successor will be well positioned to build on this strong foundation."
The Canton Regional Chamber's Board of Directors has formed a search committee to fill the position of President & CEO. Saunier will continue his role through the end of 2023 or until his successor is named. He is in the final year of a multi-year contract which coincides with the conclusion of the Chamber's current strategic plan.
"Throughout my time at the Chamber, I have had the honor and privilege to serve in three major capacities and manage dozens of outstanding individuals, many of whom have gone on to become leaders in the community in their own capacity," said Saunier. "The Chamber has not only been blessed with great staff over the years, but tremendous volunteers and diverse business leaders who have served on the Chamber's Board of Directors and as Chairpersons of the organization, moving the Chamber toward incredible growth, making it one of Ohio's eight largest metropolitan Chambers of Commerce."
Saunier began his career at the Chamber by serving as the first president of the Canton/Stark County Convention and Visitors' Bureau, now Visit Canton. Throughout fourteen years in this position, he instituted marketing efforts for sports tourism, meetings and leisure travel, branded the region as "Ohio's Golf Capital," and attracted OHSAA Football State Championships to Canton. The benefits of these efforts and more are still felt today.
During his tenure as the Chamber's executive director of the Pro Football Hall of Fame Enshrinement Festival from 1994-2000, Saunier strengthened a partnership with the Pro Football Hall of Fame, growing interest in and the popularity of the now two-week Enshrinement Festival events, which engage more than 2,000 volunteers and contribute more than $40 million to Stark County's economy.
"Denny Saunier adopted Canton and Stark County as his home and devoted himself for the past 42 years to making them better. His love for this community is well documented," said Jim Porter, President and CEO of the Pro Football Hall of Fame. "His vision has helped bring a new vibrancy to downtown Canton. Under his leadership, the Hall of Fame Enshrinement Festival has grown tremendously and gained national acclaim. For all of these reasons and many more, this community owes a debt of gratitude to Denny."
Under Saunier's leadership, the Chamber:
• Instituted a health insurance program for small business, now covering more than 7,000 individuals;
• Established the young professional movement now known as ystark!;
• Led the effort to combine the Jackson-Belden Chamber of Commerce with the Canton Regional Chamber;
• Expanded workforce development resources, attracting MAGNET, the Stark County Manufacturing Workforce Development Partnership, Stark County Minority Business Association, and the National Center for Urban Solutions to augment the Chamber's existing workforce development efforts;
• Identified the potential to market the broader Akron-Canton region as a "Metroplex," elevating talent and business attraction efforts, contributing, most notably, to landing Breeze Airways at the Akron-Canton Airport; and
• Navigated challenges and opportunities presented by the covid-19 pandemic to remain a critical source of information and support for local businesses.
"My personal thanks and thanks on behalf of the City of Canton to Denny Saunier for his leadership during his more than 40-year career with the Chamber. Denny has consistently supported the economic development of Canton and Stark County," said Thomas M. Bernabei, Mayor for the City of Canton. "He played a key leadership role in the design, funding and construction of Centennial Plaza and has been a leading supporter for the Hall of Fame Village. He helped construct the Mills Industrial Park along with the DeHoff Family Foundation; advocated for the renovation of the DoubleTree Hotel by Hilton; and originated and administered the creation of the Downtown Special Improvement District, Visit Canton and Downtown Canton Land Bank. Under his leadership, the Chamber has been a great partner to Canton, and we will miss him."
Saunier's commitment to economic and community development has included an emphasis on diversity and inclusion. Determined to incorporate diversity in race, age and thought, Saunier ensured that the Chamber's programming and strategic plan reflected this intention. In addition to establishing a young professional movement (ystark!) and appointing diverse business professionals to the Chamber's leadership team, in 2019 Saunier identified an opportunity to co-locate the Stark County Minority Business Association in the Chamber's office building, an effort that has now been recognized by the State of Ohio as a model for promoting diversity and inclusion in business.
"Denny approached me in early 2019 and explained that the Canton Regional Chamber had written goals for diversity and inclusion. He laid out his vision for a potential partnership between our organizations," said Leonard Stevens, CEO of the Stark County Minority Business Association (SCMBA). "As we embark on our third year in this agreement, I am grateful to Denny not only for his commitment to diversity and inclusion but also his commitment to SCMBA and helping us to meet the needs of minority businesses across Stark County."
As a past President of the Rotary Club of Canton, Saunier was recognized as a Paul Harris Fellow. He received an Award of Excellence from the Ohio Association of Convention & Visitor Bureaus in 1998. Saunier was named one of About Magazine's 10 Most Influential People in Stark County in 2014 and one of three Persons of the Year in 2016. In 2018, he was one of eight recipients honored at The Canton Repository's inaugural "Moving Our Community Forward" awards. He received the Dr. Martin Luther King, Jr. Commission's Business and Industry Award in 2020 and was awarded the Judith L. Lancaster Outstanding Community Service Award by ABCD, Inc. in 2022. Saunier served on numerous committees and boards throughout his career.
The Canton Regional Chamber of Commerce serves more than 1,800 members through partnership, programming, services and events to advance the economic and community growth of our region. Through economic, community and workforce development efforts, legislative advocacy, membership education and networking opportunities, regional-minded collaboration and nationally acclaimed events, the Canton Regional Chamber has been focused on business and community development since 1914.